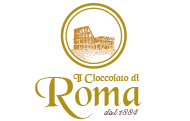 "Il Cioccolato di Roma"
is one of the oldest chocolate factories in Italy and in the world.
"Il Cioccolato di Roma", in the Castelli Romani area, is the oldest chocolate factory in Rome and definitely one of the first factories in Italy and in the world.
Chocolate production began around 1884 in the Catacombs of St. Callixtus area along via Appia. The unique recipe and processing method of the Trappist Monks have been kept unchanged throughout the centuries.
Only high quality raw materials are used such as Nocciola Tonda Gentile Romana DOP, a round and delicately flavoured hazelnut which is produced in specific areas of northern Latium and full cream milk. The genuineness of the recipe is guaranteed through slow processing and hand moulding on stone.
After complete renovation, the factory has become a productive museum, a perfectly efficient industrial archaeological site, with antique machinery from the late 19th to mid 20th Century,  where the ancient Cioccolato di Roma is still produced.
The Factory can be visited on request:
Via Costa rotonda 2, 00047 Marino (RM)
Tel: 06/9300219
Mail: info@cioccolatotrappisti.it